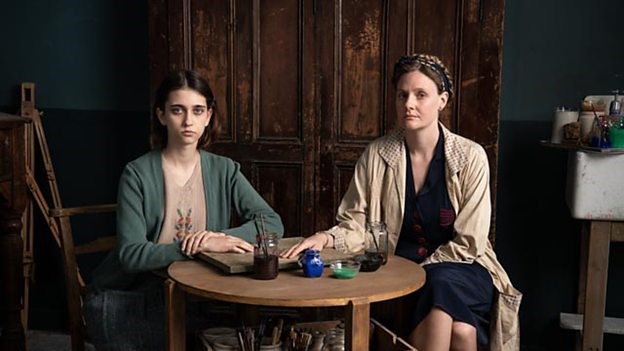 BBC MEDIA CENTRE 15.05.2019
One summer's night in 1945 a coach-load of children, some as young as three years old, are in transit from Carlisle airport to the Calgarth Estate in Lake Windermere, England. They are child survivors, and presumed orphans, of the Holocaust.
With only a few meagre possessions, they do not know what awaits them in Britain. They speak no English and, having spent many years living in death camps, and are deeply traumatised.
At the end of World War II, the British government granted up to 1,000 children the right to come to the UK. Three hundred of these children were brought to Lake Windermere for their first four months to have the opportunity to recover, surrounded by nature.
The responsibility for looking after the children is held by Oscar Friedmann (Thomas Kretschmann - The Pianist), a German-born child social worker and psychoanalyst. He and his team are in uncharted territory: their project to mass-rehabilitate a group of children has never been attempted before.
The Children (w/t) is the stark, moving and ultimately redemptive story of the bonds these children make with one another, and of how the friendships forged at Windermere become a lifeline to a fruitful future.
Written by Bafta Award-nominated screenwriter Simon Block (The Eichmann Show), the story draws on the first-person testimony of some of these now elderly survivors, whose filmed interviews will feature in the film.
The film will also feature Romola Garai (The Miniaturist) as art therapist Marie Paneth, Tim McInnerny (Strangers) as philanthropist Leonard Montefiore, and Iain Glenn (Game Of Thrones).
The roles of the young children will be played by a talented cast of young European actors selected from Polish communities in Germany, London, Manchester and Belfast, as well as from Warsaw.
Patrick Holland, Controller, BBC Two, says: "The Children promises to be a beautiful and powerful drama about a little-known part of British history. The refuge given in the Lakes and determination to give children back their lives so they could begin again is both deeply moving and humbling."
Tom McDonald, Head of Commissioning, Natural History and Specialist Factual, says: "I feel privileged that we will be bringing this extraordinary, but little-known, story to vivid life through beautifully realised drama and powerful testimony interview. This timely, evocative and emotional film, which reflects our ambitions for History at the BBC, will shine a light on events in such a way that they change how we see not just the past, but the present."
Simone Emmelius, ZDF Senior Vice President International Fiction, says: "Seventy five years after WWII it's even more important to tell the untold stories of the Holocaust and its devastating consequences. The Children is an extraordinary and touching drama that reminds us that children are the future."
Leanne Klein, CEO, Wall To Wall Media, says: "The Children is a story of hope after horror, revealing how Britain and a remarkable group of adults transformed the lives of 300 child survivors of the concentration camps. Seventy five years after the Holocaust ended it's a story that feels as important and relevant as ever. I'm incredibly proud of the exceptional cast and crew we have brought together to make this film."
The Children, a 1x90' film for BBC Two, was commissioned by Patrick Holland, Controller, BBC Two, and Tom McDonald, Head of Commissioning, Natural History and Specialist Factual. The Commissioner for ZDF is Simone Emmelius, SVP International Fiction. Executive Producers for ZDF are Wolfgang Feindt and Claus Wunn. It is a Wall to Wall and Warner Bros. ITVP Germany production for the BBC and ZDF, in association with Northern Ireland Screen and is distributed by Fremantle.
The Executive Producers for Wall to Wall Media are CEO, Leanne Klein, and Drama Executive Producer, Eleanor Greene. Executive Producers for Warner Bros. ITVP Germany are Bernd von Fehrn (Director Scripted) and Tim Rostock. It is directed by International Emmy and Bafta-award winner Michael Samuels (Man In An Orange Shirt, Any Human Heart).
Notes to Editors
The Children advisors include Trevor Avery and RoseSmith of the Holocaust Museum, Lake Windermere; and the Holocaust Education Trust.
Filming for The Children began in Northern Ireland last week.
The film will be broadcast on both BBC Two and ZDF in Germany in 2020 to mark the 75th anniversary of the end of the Holocaust.
Pictured: Anna Maciejewska (playing Sala) Romola Garai (playing Marie Paneth)